Yggdrasil, (also known as The World Tree) is an immense ash tree that the connects the Nine Worlds. The Nine Realms are known as Asgard, Midgard, Niflheim, Alfheim, Jotunheim, Vanaheim, Svartalfheim, Helheim and Muspelheim. The Rainbow Bridge, the Bifröst, is a pathway that runs through Yggdrasil and connects to all the The Nine Worlds. On the day of Ragnarök, the fire giant Surt will set the tree on fire.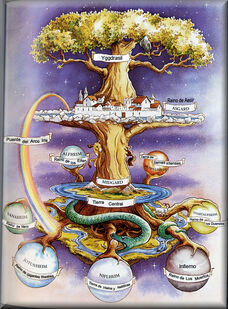 Community content is available under
CC-BY-SA
unless otherwise noted.